Bergen, Norway, September 11, 2023 — CuttingRoom to premiere at IBC, showcasing next-gen Cloud Video Editing and Collaboration. The CuttingRoom platform empowers content owners to create, edit, and publish videos from live streams and cloud sources effortlessly. The company co-exhibits at Fonn Group's stand 7.D06.
Seamless Video Editing from Anywhere
In an industry where time-to-market is critical, CuttingRoom provides a game-changing solution with its hyper-responsive user interface and rapid ingest, upload, rendering, and publishing capabilities. The platform supports remote collaboration, enabling users to work from anywhere and create engaging video content that reaches a broader audience.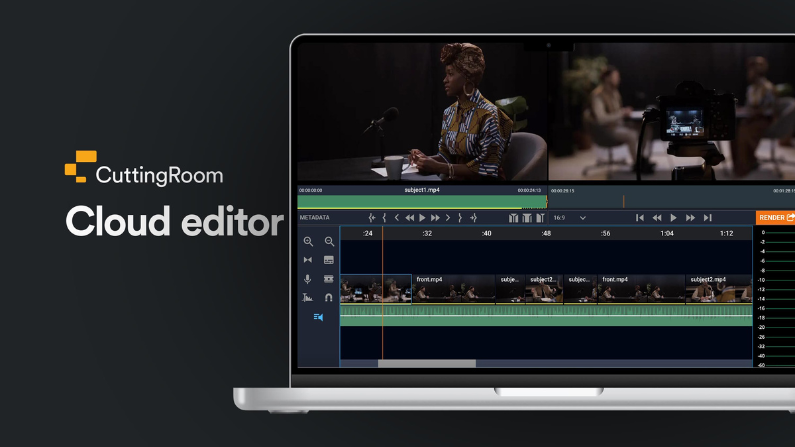 Intelligent Features for Enhanced Productivity
With CuttingRoom, users can capture content directly from live streams, use the CuttingRoom Reporter iPhone app, or import from connected cloud services and MAMs. With real-time collaboration, users can edit, add audio and voice-overs, create or import multi-layer graphics, and export in multiple formats, streamlining the workflow.
Seamless Social Media and Platform Integration
One of the platform's standout features is its ability to share videos directly to any connected social media channels, ensuring efficient content distribution. Out-of-the-box integrations make using footage from external cloud servers and publishing to popular media platforms incredibly easy.
Secure, Fast, and Scalable SaaS Offering
CuttingRoom's cloud-native Software-as-a-Service (SaaS) offering ensures universal access with just an Internet connection. With a super-responsive user interface and fast ingest, upload, and rendering, it is the preferred cloud video platform for anyone looking for a scalable video editing platform. There are no limitations on the number of users, projects, incoming streams, or simultaneous outputs. Additionally, no installation, updates, or maintenance are required.
New Features on Display at IBC
The CuttingRoom team is eager to unveil a host of new features at IBC, including:
* Editing with multiple video, audio, and graphics tracks
* Animated and keyframed pan & scan with portrait mode outputs
* Real-time editing from live sources through MAM partners like Mimir
* A robust graphics engine offering full motion graphics support in the editor
"CuttingRoom is more than just another video editing tool; it's a comprehensive solution designed to meet the evolving needs of today's broadcasters," says Helge Høibraaten, co-founder and co-CEO of CuttingRoom. "With its easy-to-use user interface, real-time collaboration, and seamless integration with other platforms, CuttingRoom truly stands out as a next-gen solution for video editing."
CuttingRoom invites all IBC attendees to visit them in hall 7, stand 7.D06.
About CuttingRoom
CuttingRoom is a pioneering cloud-native video editing platform designed to enhance productivity and maximize reach for content creators and broadcasters. With its state-of-the-art features and intuitive design, CuttingRoom is the go-to solution for scalable and efficient video editing.